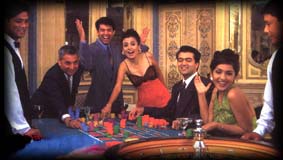 Nights fall early on Kathmandu, but not on the four casinos of Kathmandu where international games like Blackjack, Baccarat, Pontoon, Roulette, Flush, Beat the Dealer and Slot machines go round the clock, seven days a week.
The atmosphere are one of stylish enjoyment and it is tempting to linger. Even those visitors who have never gambled before soon learn how to play. There is no pressure. Charming Guest Relations Executives are at your service no sooner than you enter the casinos, and if you so wish will take you around to explain the various games. Or you can simply wander around the casinos on your own without feeling you are being watched, and enjoy the facilities laid out for youth entertainment.
It's a non stop arty. The facilities at all the casinos are first class, yet the minimum stake is quite low, so even novices can enjoy themselves. The dealers are young and enjoy their work. Waiters provide everything a guest requires, including a light for a cigarette.
The casinos are perfect places to unwind during a visit to Nepal, whether you have flown in from overseas for a few days or are in Kathmandu for a few hours. Any time is Casino Time.
Refreshment and Dining
The Casinos operate their own international standard bar, making hot, cold, hard or soft drinks available 24 hours a day. Along with drinks, you'll enjoy Indian, Chinese and Continental dishes sold at very reasonable prizes. Take your snack or meal while you play at the game side table, or in a quite spot away from the action.
Foreign Exchange
All games at the casinos are played in chips purchased with either US dollar or Indian Rupees. If chips are purchased in US dollars, winnings may be received in the same currency. Other currencies, including Nepalese rupees and traveler's checks, can be exchanged on the premises at the current bank rate. American Express and other major credit cards may also be used. Winnings may be taken out of the country.
Chips
Chips have to be purchased at the cashier's counter before you sit down to play at any of the tables. Except Indians, all foreign nationals have to present their passport while purchasing chips. All play is either in Indian Rupees or US Dollars. You may exchange Indian / Nepalese Rupees, US Dollars, traveler's cheques or other foreign currencies at any casinos.
Free Transport
Regular transport services are organized by all four casinos for the players' convenience.
Casino Nepal

Open: 24 hours
Telephone: 977-1-270244, 271011
Fax: 977-1-271244

Casino Anna

Open: 24 hours
Phone: 977-1-228650
Fax: 977-1-225228

Casino Everest

Open: 24 hours
Phone: 977-1-488100
Fax: 977-1-490288

Casino Royal

Open: 24 hours
Phone: 977-1-228481, 434507
Fax: 977-1-223933
---