Altitude: 1,350m
Population : Half a million
STD Code: 01
Best Season : May-September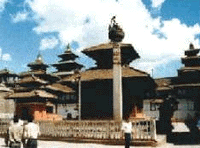 Wandering through the cobbled streets and alleys of Kathmandu is like going back and forth in time. It was in the 1950s that the government of Nepal decided to open its borders to foreigners. The sudden influx of modernity and tourists has made for some interesting and eye-catching contrasts in this Himalayan Shangri-La. Kathmandu Valley is dotted with countless shrines, temples, palace squares, charming old bazaars and ageless sculptures. Very much the abode of Lord Shiva and Guatama Buddha, a patron saint of the Sikhs has also walked here. Not to mention the Living Goddess, Kumari, who is venerated by all.
Kathmandu is a magically romantic place where, fact entwines with fiction, myth with legend, religion with mysticism, adventure with meditation and modern-day governance with tradition. It is also a pulsating tourist center with a mind-blowingly hectic nightlife. The area around the Kathmandu Guest House has mutated into quite a throbbing little quarter in the evenings, with dueling nightclub sound systems blaring across the alleyways, noisy bands of revellers looking for action, and the cops and the rikshawallahs waiting outside for closing time. The Thamel and Freak Street bars attract many budget travelers. They serve beer, improvised cocktails and music, often continuing into the early hours behind locked doors. The fancier nightclubs outside Thamel attract a more diverse clientele: Nepali men and women, expatriates. All in All, Kathmandu will unfold to you whichever aspect you are looking for : religious, adventurous, meditative, mystic or entertaining.
Getting There
Most of the world's major airlines fly to Kathmandu in Nepal. Tribhuvan airport lies nearly 6.5km east if the city and buses and cabs are easily available to the city. Nepal's official international carrier is Royal Nepal Airways. If you are entering Nepal through India, you can make use of the two Indian Railway lines that run to the border with Nepal. Cycle-rickshaws are available from this point onward. There are 12 possible points of entry into Nepal by road. New roads have been built linking Kathmandu with India and Tibet.
Accommodation
Thanks to its status as the national capital, Kathmandu is chockfull with hotels, inns, guesthouses and lodges to suit all budgets. Click Here to book your room in hotel in Nepal. There are more than 900 hotels to choose from.

Sightseeing
Hanuman Dhoka
Bang in the middle of Kathmandu sits the Durbar Square. It is a complex of beautiful temples and shrines, both Hindu and Buddhist. Most of them are built in the pagoda style and boast of intricately carved exteriors. The Old Royal Palace or the Hanuman Dhoka lies on the eastern edge of the square and was the former royal residence. An ancient and labyrinthine palace, it is a treasure house of carvings, paintings, shrines and pagodas left by a dynasty of Nepalese kings.
Statue of Hanuman
A statue of Hanuman, the Monkey God, stands within the Durbar Square. Venerated by most Nepalis, it is dressed in a cloak of red.
Kumari Chowk
The House of the Living Goddess, the Kumari, is also located within this square. It lies on the southern end of Durbar Square. This beautifully decorated temple is the gilded cage of the Raj Kumari, Kathmandu's reincarnated -Living Goddess'. The Kumari is usually a pre-pubescent girl of tender years who ceases to be venerated as Goddess once the menstrual cycle sets in. Another child then takes her place.
Kasthamandap
The Kasthamandap is a wooden pavilion at the southwestern end of Durbar Square. It is believed to be one of the oldest wooden buildings in the world. This lovely pagoda served as a rest spot on the Tibet road and gave its name to Kathmandu.
Pashupatinath Temple
The Pashupatinath Temple is considered the holiest temple in Nepal by Hindus. It is dedicated to Lord Shiva in his avatar as the Master of all beasts. Beautifully built, it is a sight to behold. However, non-Hindus are not allowed into the precincts of the temple and must be satisfied with a view from outside.
Swayambhu Stupa
This huge temple is perched on a hill 2km west of Thamel. The gigantic hilltop temple is overrun with pilgrims and monkeys and is the most profound expression of Buddhist symbolism in Nepal.
Bhagmati Ghats
These ritual bathing ghats lie along the bank of the river Bhagmati. Statues, temples and all manner of artifacts dot these stone-paved embankments. Apart from devotees enjoying a dip in the sacred river, you will also spot many buffaloes.
Monkey Temple
A climb up from the city leads to the famous Monkey Temple. The numerous steps that take you to the temple make for a steep climb. The temple is frequented by many monkeys and one should treat them with some caution as their behavior can be unpredictable.
Bouddhanath Stupa
A few kilometres from Kathmandu stands the huge and impressive Bouddhanath Stupa. An active center of Tibetan Buddhism, it is frequented by Tibetans in exile. It is a great place to learn about this branch of Buddhism and to buy Tibetan handicrafts and artefacts. The stupa is home to a number of monasteries and obviously monks.
Balaju Water Gardens
Just 5km west of the city, below the Nagarjuna Forest, are the lovely Balaju Water Gardens. The gardens are known for the statue of the reclining Lord Vishnu and the 22-headed sea dragon fountain.
Godavari Royal Botanical Gardens
These Botanical gardens lie 19km south of Kathmandu and can easily be reached by road. Numerous species of trees, shrubs and beautiful orchids make it an idyllic setting and a great place to picnic in.
Quick Getaways
Nagarkot
Nagarkot is a popular tourist resort situated 32km east of Kathmandu at an altitude of 2,175m. The awesome Mt Everest can be seen from here.
Dhulikhel
Nearly 30km east of Kathmandu on the Kodari Highway, Dhulikhel at a height of 5,500ft is a 90-minute drive from Kathmandu. The city offers great views of snow-capped ranges from Karyolung in the east to Himalchuli in the west.