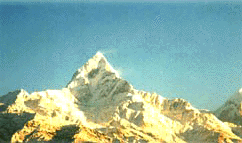 It is also the second most-visited spot in Nepal after Kathmandu. Pokhara is known for its lovely lakes Phewa, Begnas and Rupa, which have their source in the glacial Annapurna Range of the Himalayas. A place of remarkable natural beauty, Pokhara also offers splendid views of the fishtailed summit of Machhapuchhre which rises from behind the Phewa Lake. It is home to thick forests, gushing rivers and emerald lakes.
Getting There
Pokhara lies 200km west of Kathmandu and is connected by air to the capital. Alternatively, you could take a bus to Pokhara; its no more than a 5-hour ride from Kathmandu. The highway passes along a highly picturesque region between the midland valleys and the Terai belt of the kingdom.
Accommodation
Pokhara is a popular tourist destination so there is obviously no dearth of good accommodation. There are hotels to suit all budgets and tastes. Click Here to book your room in Pokhra online.

Sightseeing
Phewa Lake
The second largest lake in the country, Phewa is the focal point of Pokhara and extremely popular with visitors. You can go sailing on the lake, row a hired boat across the water, fish or visit the island temple in the middle. The eastern shore is popularly known as Lakeside or Baidam, and serves as a home base for travellers. Most of the town's hotels, restaurants, and handicraft shops are located here.
Barahi Temple
The Barahi Temple is arguably the most important shrine in Pokhara and a major landmark. Built bang in the centre of the Phewa Lake, this multistoried pagoda is dedicated to the boar manifestation of Goddess Ajima, the protector deity representing the female force Shakti.
Seti Gandaki
This sparkling river flows right through the city and is completely underground at places. Amazingly enough, it seems no more than two metres wide at certain points though its depth is over 20m. A small bridge, dubbed Mahendra Pul, provides a perfect view of the river's dreadful rush and the deep gorge made by its powerful flow.
Davis Fall
Davis Fall lies about 2km southwest of Pokhara airport on the Siddhartha highway. Locally known as the Patale Chhango (Hell's Fall), it was named Davis Fall after a trekker who mysteriously disappeared down an underground passage beneath the fall.
Trekking
Pokhara serves as the starting and/or finishing point for some of the most popular treks including the Annapurna Circuit and the Jomsom Trek. It also offers a number of short treks for those who cannot manage long and challenging ones. The most popular among them is the one to Sarangkot (1,592m), a former Kaski fort lying atop a hill 5km west of the old bazaar.