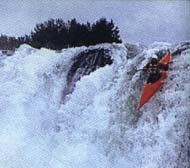 ---
---
White water rafting means cruising down a rushing river in an inflatable rubber raft or white water kayak over crashing waves and swirling rapids for the excitement of a lifetime. Nepal has earned a reputation as one of the best destinations in the world for white water rafting.
Rivers are graded on a scale of one to six. Here are some of the popular rafting trips:
The Trishuli River (grade 3+) is one of the most popular, if not the favorite, of Nepal's raftable rivers. Many choose to incorporate a ride down the Trisuli with either a trip to Pokhra or to the Royal Chitwan National Park.
The Kali Gandaki (4-6+) winds through remote canyons and deep gorges for five days of intense rapid among gorgeous wilderness and mountain views.
The Bhote Koshi (4-5) Twenty-six km of continuous white water batters rafters as they shoot through a veritable maze of canyons and boulders.
The raging Marshyangdi (4-5) run is four days of uninterrupted white water.
The Karnali River (4-5). The first 90 km are spent flying through spectacular landscapes and narrow gorges and down some of the most challenging rapids in the world. For the remaining 90 km, the scenery and wildlife is the main attraction.
The Sun Koshi (4-5) run is 270 km and requires 8-10 days to complete with road access only the beginning and end.